How do I connect OBS Studio to ViMP?
Editions: all
Versions: 4.0.0+
With OBS Studio, you can easily bundle, process and send live streams to ViMP to make them available to your audience.
OBS Studio is available as a free download for Windows, Linux and macOS.
Download the latest version here: https://obsproject.com/download
Then follow the installation instructions of OBS: https://obsproject.com/wiki/OBS-Studio-Quickstart
To integrate the stream on ViMP, you need an additional streaming server, such as Wowza.
Please follow the instructions for connecting a livestream with Wowza: https://www.wowza.com/docs/how-to-connect-a-publisher-to-wowza-streaming-engine
Afterwards, enter the created stream into OBS as follows when you are asked for it in the Auto-Configuration Wizard: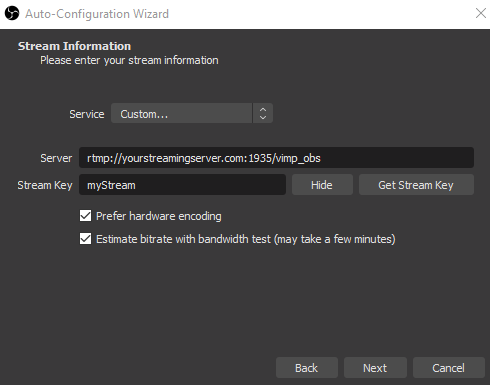 Service: Custom
Server: RTMP path to your streaming server including application
Stream key: can be selected arbitrarily
Then select the sources of your stream: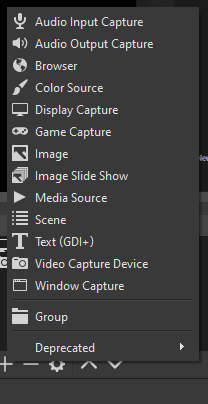 For example, to record your webcam, select "Video Capture Device". For a screencast of your screen, select "Display Capture".
Every single stream can be positioned individually in size and position on the "screen".
Then start your stream via the OBS button "Start Streaming". Switch back to the Wowza configuration and access the "Incoming Streams":

The stream created by OBS now appears here. Use the "Test Player" function to check if the stream can be played correctly.
The URL, which you enter at the end in ViMP in the corresponding livestream settings, would then be as follows for our example above:
http://yourstreamingserver.com:1935/vimp_obs/myStream/playlist.m3u8
Last update on 2020/04/20 by Admin.