How do I set up role mapping for SAML?
Editions: Corporate
Versions: 4.4.0+
SAML role mapping can be set up in the same way as you set up role mapping for LDAP in Roles & Rights management: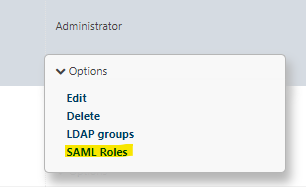 Add a new mapping here:

The following fields are available for this purpose:
Display Name: Name to be used for the mapping.
IdP Name: Selection of the IdP for which the mapping is to be set up.
SAML Role name: Name of the SAML role to be mapped which must be included as a value in the following attribute array.
Attribut Array: Name of the attribute array containing the roles as attribute values.
Last update on 2021/05/31 by Admin.